welcome
At what point do leaders say goodbye to their current career, and when is the right time to do it? David Heenan reveals the answers to these questions through professional sketches and sage advice in Leaving on Top: Graceful Exits for Leaders, a unique book that explores this intricate—and rarely addressed—topic. Profiling top figures like founder and CEO of Starbucks, Howard Schultz, former World Heavyweight Champion, George Forman, and legendary actress, Betty White, Leaving on Top reveals the secrets to excelling in one of life's most formidable challenges: the graceful exit.
In this well-timed book, David Heenan explores the art of the sweetly timed exit. A well-respected corporate executive, business-school dean, and former Marine, he has encountered his own share of successful sayonaras. It is this authenticity that allows him to lay out a comprehensive road map—a set of directions any of us can follow.
~ From the Foreword by Leadership Guru Warren Bennis

More reviews and praise »
Leadership & Business Podcast
Ken White, Associate Dean for MBA & Executive Programs at the Raymond A. Mason School of Business, interviews David Heenan on Kenʻs Leadership & Business Podcast.
Podcast (audio)
Podcast (platforms)
iTunes | Stitcher | SoundCloud | TuneIn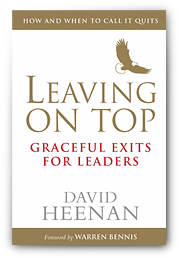 Order your copy at:
Order Book at Amazon
Order Book at Barnes & Noble
Follow me on Twitter